(Last Updated On: April 24, 2020)
LED backlights can not only be used as the light source for  LCD panels but can also be used as illumination equipment, like LED panel lights, LED ceiling lights and LED light boxes. There is no essential distinction between these lights which are edge LED backlight.   The only difference between them is the size.
Some people may think the structure of an LED backlight is much simpler than the structure of liquid crystal display, so it is very easy for us to quote a custom LED backlight. I am sorry to tell you that this is not true. At least in my own experience, it is not the case. In my opinion, LCD screens are 50% custom and 50% standard products. LED tube lights are a 100% standard product, but LED backlights are a 100% custom product.
You can request any length, width and thickness of LED backlights and install a random quantity of LED lamps into an LED backlight, as long as you can pay for the cost.
Here is a summary of the necessary information that we need before we can offer quotes:
What are you looking for?
Edge LED backlight or Bottom LED backlight? You can see my post The Comparison Of Bottom LED Backlight And Edge LED Backlight.  You don't have to choose between an edge LED light or a bottom LED backlight. We can make the design for you according to your requirements.
Quantity.
The more you order each time, the cheaper the unit price ends up.
LED lamps.
There are two main kinds of LED lamps: DIP LED and SMD LED  which we can be used in the LED backlight. High power LED  is one of the main LEDs which are used in LED spotlights.   I would be very grateful if you don't have special requirements about the color temperature of LED lamps. You can see my post: Color Temperature.
Unfortunately, we cannot make custom requests with regards to color temperature if your order quantity is less than 50,000 pieces.
Our factory has one production line for DIP LED and one production line for SMD LED. We can make any custom color temperature of LED lamps, but the minimum quantity for LED Lamps is 50,000 pieces.
The thickness.
This is the most important element in the design of the LED backlight. I have been asked this question many times: "What is the thinnest you can make an LED backlight?" To answer this question, let us see the basic structure of LED backlights:  reflection film,  light guide plate, diffusion film.
The thickness of reflection film is 0.1 mm and the diffusion film is 0.1 mm. The light guide plate is complicated. The thickness of a standard light guide plate is 1.0 mm, 1.5 mm, 2.0 mm, 2.5 mm, 3.0 mm, 3.5 mm, 4.0 mm, 5.0 mm.  We can make the dedicated light plate as thin as 0.45 mm. You can see my post The Process Of Light Guide Plates Manufacturing.
So the total thickness of edge LED backlights is 0.9 mm (0.1 mm reflection film, 0.6 mm light guide plate, 0.1 mm diffusion film and 0.1 mm double-faced adhesive tape which holds all the parts together)
It is a lot easier for production if we use DIP LED because we don't need PCB or FPC to install the DIP LED. It is minimal 2.0 mm of light guide plate to install the DIP LED.
PCB or FPC
If the thickness of the light guide plate is less than 2.0 mm, we have to use SMD LEDs which are installed in the PCB or FPC. If you have special requirements about PCB or FPC, we have to make a dedicated PCB or FPC. For example:
One, put the hard PIN or wire in the two ends of the edge of the PCB.
Two, 3.0 v is our most widely used voltage for LED backlights and the driving voltage you require is 6.0 v, 9.0 v or 12.0 v, we are going to need a dedicated PCB.
Three, the total thickness of LED backlight is 0.9 mm and the light guide plate is 0.6 mm. The PCB is too thick to be installed in the light guide plate. Only dedicated FPC can meet the requirements in this situation.   But the dedicated FPC is much more expensive than the dedicated PCB.
The connection of LED lamps.
You can see my post: The comparison of LED Serial Connection and LED Parallel Connection
Parallel connections are the most widely used connection.
Exterior area and active area.
I am always hearing people talking about Size, but they fail to mention if it is the exterior area or the active area.
Let us look at this example.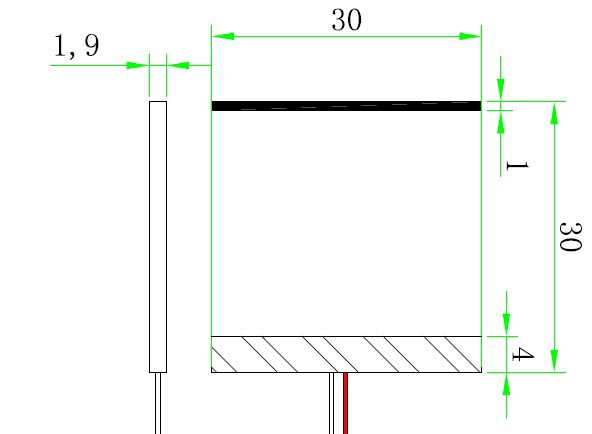 This is an exterior area 30.0 x 30.0 mm and 1.9 mm thickness LED backlight. The active area is 25.0 x 30.0 mm.
The thickness is only 1.9 mm, we can infer that
One, light guide plate is 1.5 mm
Two, SMD LED is used as the light source because the DIP SMD requires at least 2.0 mm light guide plate.
Three, light shade area is 4.0 x 30 mm.
I want to replenish some basic knowledge about light shade area. If we use DIP LED as the light source, the length of the light shade area should be 5mm-7mm; meanwhile, if we use SMD LED as light source, the length of light shade area should be 3-5 mm.
8. The connection of the LED backlight

There are wire harness connection, PCB with hard PIN connection, PCB without hard PIN, FPC connection, mental PIN connection and wire (lead) connections for LED backlight. The most widely used connection is wire (lead) and metal pin.
The more special the LED backlight you require, the more expensive it will be.  LED backlights with the same exterior size  can have a huge difference in the unit price, assuming one with the regular light guide plate and wire connection and another with dedicated light guide plate and dedicated FPC. We can conclude that we can practically meet your any special requirements for LED backlight as long as you can afford the price.
So, please review these 8 points before you ask for an LED backlight quote. It will be a lot easier for us to get you an accurate quote.